Saturday with Rachael Ray:
America's sweetheart in the kitchen comes to Madison this weekend
By Rita Papazian
Published: Thursday, November 18, 2010
---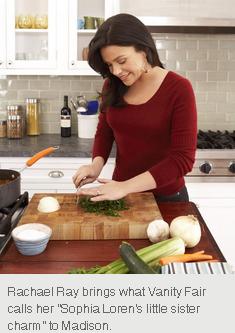 Rachael Ray brings what Vanity Fair calls her "Sophia Loren's little sister charm" to Madison.

As a child it would not be uncommon for Rachael Ray to bring to school a lunch sandwich with anchovies and provolone on Italian bread. After all, she said, in a recent telephone interview, she had the "diet of a 75-year-old man."

Why was that?

Ray, whose natural talents have catapulted her into one of America's favorite television personalities, celebrity chefs and cookbook authors, grew up in an upstate New York household where her Sicilian grandfather, a fixture in the kitchen with his love of cooking and food, was a driving force in the Scuderi/Ray household.

Ray's grandfather's love of cooking was passed down to his daughter Elsa, Ray's mother, the oldest of 10 children. She has enjoyed her own career in the food industry, managing four restaurants on Cape Cod among other restaurant positions. Rachael, whose building-block career spans from her candy counter post at Macy's to a best-selling cookbook author, award-winning TV host and philanthropist who founded the nonprofit organization Yum-O! to empower children and their families to develop healthy relationships with food and cooking. This is achieved by teaching families to cook, feeding hungry kids and funding cooking education.

Recently, actor Jim Belushi sang on Ray's Emmy-award winning syndicated show, "Rachael Ray," this country loves to "Eat, Love & Pray with that cutie Rachael Ray." Indeed.

Ray will bring her glamorous kid-sister charm (a la Sophia Loren) to Madison to do a book-signing for "Rachael Ray Look + Cook" at R.J. Julia Booksellers, Saturday, Nov. 20 at 2 p.m. Purchase of the book at the bookstore is required to attend ($24 plus tax), some will be available day of the event but advance purchase is encouraged. For more information, visit rjjulia.com.

Ray's success in the food entertainment industry in less than a decade demonstrates what one can accomplish with the natural talents, passion and energy. She has managed to combine her anti-Martha Stewart lifestyle with what "Vanity Fair" has dubbed her Sophia Loren's little sister charm into a multi-million dollar industry generated through the sale of her cookbooks and the popularity of her TV shows that along with her syndicated Rachael Ray include the popular Food Network shows, "30-Minute Meals," "Tasty Travels" and "Rachael's Vacation." She is also founder and editorial director of her magazine, "Every Day With Rachael Ray."

Not only is Rachael Ray a multi-media success story, she is now expanding her publishing empire with her 17th cookbook, Rachael Ray's Look + Cook, (Clarkson Potter/Publishers) into the realm of multi-media. The cookbook offers never-before published recipes, and 600 color photographs. The first 170 recipes are each accompanied by up to eight step-by-step instructive color photographs. Additionally, Ray demonstrates recipes in online videos, hosted on FoodNetwork.com and RachaelRay.com. The purpose is to visually demonstrate the simplicity in the easy-step recipes at a moment's glance.

During the interview Ray explained that the new cookbook's multi-media approach's purpose is to reflect the multi-media trends this country is adopting in the publishing industry.

"How many people are downloading into gadgets today" she said rhetorically. "It's great straight content with no commercials. It's the cooking equivalent to paint by numbers." Ray is fascinated by the added dimension that her latest cookbook offers and she is already working on two future projects with multi-media application.

"Rachael Ray Look + Cook" is divided into sections, reflecting Ray's familiar cooking and recipe style: Cozy Food; Make Your Own Takeout; Fancy Fake-Outs; 30-Minute Meals; Yes! The Kids will Eat It; Sides & Starters; Simple Sauces & Bottom-of-the-Jar Tips; and Desserts.

Ray explained the Takeout sections offers the familiar and popular takeout-style foods that people love but by offering these recipes that people can do in their own kitchen, they get to control the salt, fat and quantity. Also, she noted, that popular takeout-food establishments may not be available in many neighborhoods.

"We don't have takeout in the Adirondacks," said Ray, a reference to the scenic upstate New York area where she and her husband, have a home in the classic Adirondack Mountains cabin-style. She has been married since 2005 to John Cusimano, a lawyer who heads Ray's production company, Watch Entertainment and handles all her legal matters.

When made at home, takeout is "less of a guilty pleasure," says Ray, who invites readers to make their own takeout "and save on the tip."

In addition to the takeout meals, Ray selected the new cookbook's recipes to represent a cross-section of culinary tastes including a variety of "meatless meals, comfort food and bistro meals," she said. In addition, the cookbook's "Bottom of the Jar Tips," section is pure Ray creativity. For example, take the last few tablespoons of peanut butter sitting in the bottom of the jar and turn it into a spicy Thai peanut sauce as a dip for chicken tenders or pour over a pound of warm whole-wheat noodles and garnish with toasted sesame seeds and chopped scallions. She suggests: "loosen the peanut butter in the jar by microwaving it, with the lid off, for 30 seconds on high. Add three tablespoons of hot water and three tablespoons tamari, lime zest and juice from one lemon, and one teaspoon of red pepper flakes to the jar. Screw the lid on and shake to combine.

While one may wonder where she gets all her ideas for her cookbooks and television shows, Ray offered a little peek in her life. She keeps a notebook, sometimes two at a time, and as she goes about her daily routines, she gathers ideas and jots them down in her notebooks with references to which future book project or TV show, cooking, lifestyle or travel, the idea would be appropriate. She loves to drop by newsstands and bookstores to peruse the latest magazines or look at old cookbooks at one of her favorite haunts, the "Strand" bookstore which is in her neighborhood where she lives with her husband, who she met at a party. In past interviews, she has described their meeting. They were the two shortest people in the room and therefore, they gravitated to one another. Both recalled knowing that night that they had met their future mates. In a Vanity Fair interview, Ray's friend Donna Carnevale is quoted as saying," She said she was going to marry that man; she was going to marry him in Rome." They married in Montalcino, Italy in September 2005.

While Ray describes her notebook entries of ideas as a base for many of her projects, her habit of idea collecting can be traced back to her childhood when she spent many hours with paper and crayons. A chronic croup condition as a child required her to spend many days in bed beneath a tent to relieve her congestion. She whiled the time away by drawing.

"I loved being home sick. Mom built the vaporizing tent," Ray says.

Keeping records of ideas is her "nervous energy thing," says Ray, who also noted that her husband, who loves to write songs, is always "writing down songs."

During the interview Ray harkened back to her childhood and the influence her family, especially her mother and grandfather have had on her strong love for working in the food industry. When the family moved back upstate from Cape Cod and her mother had other restaurant management jobs, Ray would spend time at her mother's work, watching and building her love for the food industry. She talks about how comforting it always has been for her and her family to be together cooking in the kitchen.

"It was a multi-generational household," said Ray, whose sparked her own early success when she worked in a local food market and decided to conduct food demonstrations so that shoppers would buy certain products. The demonstrations evolved into her concept of 30-Minute Meals which led to a food demonstration segment on a local upstate television station. Eventually, when the Today Show was looking for a last-minute replacement for a food segment, they called Ray. Her mother answered the telephone and it took a little convincing that it actually was the Today Show calling. There was one drawback. New York was experiencing blizzard-conditions snowstorm. A four-hour car trip took nine hours. However, her national broadcast proved a success. Also at the same time, Food Network heard about Ray and contacted Ray.

According to the Vanity fair interview in 2007, Ray said she told the Food Network, "Listen, you're champagne, I'm beer out of the bottle. I clearly don't belong here. I'm not a chef…" However, that was what the Food Network like about Ray and obviously so do millions of viewers. She is the daughter, the sister, the neighbor next-door.

Not only is her personality what viewers like, her style of cooking is appealing as well. Who has time nowadays? Her 30-Minute Meals is just what people want and she has capitalized on that success again and again.

Through her nonprofit Yum-O! Ray works to empower young people to pay more attention to their food and also to work towards providing for themselves. One of her priorities is to see a "return to the lunchroom cook" in schools so that children will be served nutritional foods. Through lobbying she has been encouraging legislators to make a social change so that children eat better and as a result are better prepared to learn.

Ray will do a book-signing for Rachael Ray Look + Cook at R.J. Julia Booksellers on Saturday, Nov. 20 at 2 p.m.

Steakhouse Chili Pot

(From Rachael Ray Look + Cook)

1 tablespoon EVOO (extra-virgin olive oil)

4 slices lean, smoky bacon, finely chopped

2 pounds coarse-ground sirloin

1 large onion, finely chopped

3 to 4 garlic cloves, finely chopped

4 tablespoons chili powder, preferably Gerhardt's brand

Salt and pepper

1 (14-ounce) can tomato sauce

1/3 cup Worcestershire sauce

¼ cup dark brown sugar

2 tablespoons hot sauce

2 cups beef stock

Sour cream, for topping

½ cup finely chopped fresh flat-leaf parsley leaves

Heat the EVOO in a chili pot over medium-high to high heat. Add the bacon and cook it for a couple minutes to render its fat. Add the beef and cook until brown, 5 to 6 minutes, stirring occasionally to break up the lumps. Add the onions, garlic, chili powder, a little salt, and lots of black pepper, and cook to soften for 5 minutes. In a bowl, stir together the tomato sauce, Worcestershire sauce, brown sugar, and hot sauce. Add the sauce to the chili pot to combine, then add the stock, bring to a boil, reduce the heat, and cook to thicken for 6 to 7 minutes.

Serve shallow bowls of chili with sour cream and lots of parsley on top.