Lightfield's pocket tour guide is helping people discover Norwalk
By Rita Papazian
Published: Tuesday, November 30, 2010
---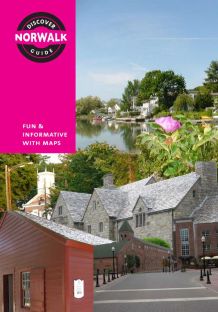 Whether you're a longtime resident or a first-time visitor to Norwalk, you'll want to pick up a copy of "Discover Norwalk: The Guide" as it provides an historical and modern-day perspective in a handy six- by-eight-inch, 66-page soft-cover book.

Jackie Lightfield, chairman of the Norwalk Arts Commission and former chairman of the Zoning Commission, has written and published the guide that acts as an index to this city's major attractions and historical sites. Lightfield has managed to encapsulate in this colorful photographic pocket tour guide the rich heritage and landscape of this thriving moving-forward community.

Lightfield has also created an accompanying website, Discovernorwalk.com, which offers up-to-date information about events, and, as she says, "other things more ephemeral."

"Discover Norwalk is a great overview of what's here now," said Lightfield during a recent interview in her condominium at the Corset Factory building on Ann Street in the heart of South Norwalk, one of the two urban centers featured in her guide.

The other center is Wall Street, which the author says has "some of the oldest churches in the state" located on the Town Green. Wall Street also offers a number of buildings that survived the 1955 flood.

Also, Lightfield touts the variety of cuisine the Wall Street restaurants offer. These include Spanish, Italian, Latin American, Mexican, Peruvian and Chilean among others. And she puts the Garden Art Cinema in the spotlight.

"This is a great introduction to Norwalk. It's a great overview of what's here now. I am taking you through what's there now and what's interesting about it. It's a very contemporary guide to living in Norwalk," Lightfield said.

In discussing the two urban areas in the book, Lightfield offers a variety of facts about the sites and their histories along with a listing of places to visit. For example, did you know there are more than 1,000 graves in Pine Island Cemetery in Mathews Park or that the Heritage Trail along the Norwalk River allows foot traffic from Mathews Park to the Maritime Aquarium?

Lightfield disperses a number of "factoids" throughout the book. Here's a sampling:

The name Norwalk was a difficult one to spell, popping up as "Norwocke," "Norwalke," "Norwack" and "Newark," Cotton Mather settled the spelling in 1702 in "Magnalia Christi Americana."

The song "Yankee Doodle" just might have Norwalk roots, Lightfield says. "The Governor's sister, Elizabeth Fitch reportedly handed a feather to a troop of citizen soldiers off to fight in the French Indian war. Their outlandish appearance prompts Dr. Richard Shuckberg to compose the famous ditty..."

In 1860 the first derby hat was made in the U.S. by Crofut& Knapp. John B. Stetson learned the trade at C & K. The plant moved to 25 Van Zant St. in 1926.

Artifacts found at the Bitter Rock shelter in the ledge above Ward Street date back to 5000 BC.

In addition to these urban areas, Lightfield takes readers through the fishing village community of Rowayton, and the water recreation areas, including Calf Pasture Beach, as well as historic neighborhoods country like Cranbury and Silvermine. The guide includes a map for orientation to Norwalk.

Special features also include a suggested listing of places to eat in SoNo and the Wall Street area and a brief listing of important sites if visitors have only a few hours to spend in Norwalk. Lightfield suggests visiting: the Lockwood Mathews Mansion, Stew Leonard's, Washington Street SoNo, Maritime Aquarium and Rowayton Village.

In addition, the tour guide features two aerial photographs of the Wall Street and the SoNo district taken by local photographer Peter Massini.

"Most people haven't had an opportunity to see Norwalk from the air," she says.

Lightfield is a self-described "publisher of travel information and will deliver fresh information to whatever device you have or want."

She can take her content and put it into different places. For example, she is able to take her content and offer it to the consumer, whether it's as an on-demand printing guide or an iPhone application. The new and constant advances in technology are making this possible. And the added benefit is the mobility of content which, in turn, enables the consumer to download information standing at an historical site or local attraction.

Lightfield, "a firm believer in walking tours," does not limit herself to local sites.

Currently, she is engaged in a new project, which offers a Jack the Ripper Tour in London. This tour guide will be delivered to the consumer in a variety of forms: a printed or ebook version or an iPhone or MP3 application.

Jack the Ripper has always "captivated," Lightfield says of the serial murders of prostitutes that occurred between Aug. 30 and Nov. 9 in 1888. The crimes resulted in a city in fear and the murderer was never found. The crimes captivated people, especially because there was "Royal Intrigue" with the Duke of Clarence considered a suspect. Lightfield said there were 17 suspects.

Lightfield is creating a one-hour walking tour of the White Chapel district in London where the murders occurred. She said the area at the time had a large immigrant population and women resorted to prostitution. Her guide will take tourists through the six murder sites and they will learn who the victims were and how they died.

According to Lightfield's website, Pocket Tour Guides are also in the works for Montreal, Paris, Provence and Geneva.

Lightfield, who self-published the "Discover Norwalk: The Guide," through lulu.com, enjoys channeling her talents in the virtual world. She has an extensive portfolio representing her designs of video games. She produced Cogito, Windows' first commercial game, among others.

"Discover Norwalk: The Guide" in print form is just one way to present travel information. The guide costs $24.95 and is available at Fat Cat Pie Co. and the Center for Natural Healing on Wall Street as well as the Norwalk Museum, the Town Clerk's office at City Hall or by downloading an electronic copy from her web site, www.discovernorwalk.com.

Lightfield will be signing copies of the book at the Norwalk Library on Dec. 11.