Barricelli shares sweet and savory recipes for every occasion
By Rita Papazian
Published: Friday, March 12, 2010
---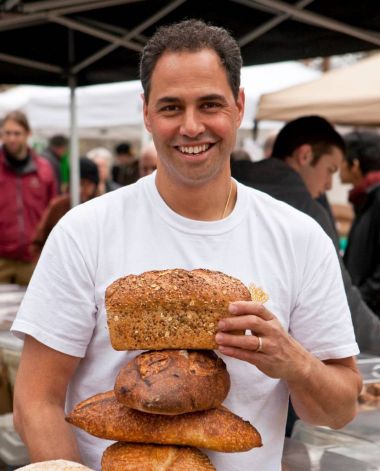 John Barricelli, owner of SoNo Baking Company, has authored his first cookbook, which he will be signing at the Norwalk Library on Monday. South Norwalk baker shares his delicious trade secrets.

The dedication written in chef, baker and entrepreneur John Barricelli's recently published first cookbook stops the reader cold.

It reads: "To all the children of the world who go through life without parents " life is tough enough " I miss you, Mom and Dad."

Brooklyn native Barricelli, who has seven brothers, lost his mother when he was in third grade. Then, his father died when he was a senior at Valley Stream Central High School on Long Island.

So Barricelli, Fairfield resident and the proprietor of the SoNo Baking Company & Cafe, 101 South Water St. in South Norwalk, learned early on how to be independent and work hard, not only to survive, but also to build a career.

There's a long list of nouns to describe the roles Barricelli has assumed throughout his career thus far: baker, chef, caterer, entrepreneur, television personality and now author.

Publishers Weekly recently named his new cookbook, The SoNo Baking Company Cookbook: The Best Sweet and Savory Recipes for Every Occasion, one of "2010's Most Exciting Food Books."

Barricelli will begin a whirlwind of book-signings in Fairfield County beginning with the Norwalk Public Library on Monday at 6 p.m.

During a recent interview at SoNo Baking Company & Cafe, Barricelli described the excitement he felt when he received the first copy of his cookbook. But it was a bittersweet moment.

"It was one of those sad moments. I had no one to call," said Barricelli, a reference to his parents who had passed away more than 30 years ago. "I called my Aunt Connie."

When Barricelli sat down at 9 a.m. for the interview, he had already been up six hours and had even made one trip back home to Fairfield at 5:30 a.m. to pick up his 2-and-a-half-year-old son Peter, whom he had to watch for a few hours.

Barricelli managed to balance watching the little boy, answering this reporter's questions and greeting customers who had come to the café. Meanwhile, he kept an eye on the clock, knowing he had a telephone interview ahead and a long list of deliveries to make from his wholesale bakery.

In addition to the SoNo Baking Company, his baked goods are sold retail in many bake shops and restaurants throughout Fairfield County.

Welcome to Barricelli's world.

He already had an impressive resume before he met Martha Stewart, but their affiliation really propelled him into the spotlight. Stewart wrote an extensive foreword praising Barricelli's passion and talents for baking.

Barricelli met Stewart when her television crew filmed a Thanksgiving feast at the Elms Inn in Ridgefield, where Barricelli was the pastry chef at the time.

She later hired him to be the chef for her commissary at the television studio, then located on the Westport/Norwalk line, which led to his on-air appearance and ultimately the chef in her TV set kitchen. He then became a featured chef on Everyday Food and in 2008 he became host of the spin-off Everyday Baking from Everyday Food on PBS.

The SoNo Baking Company Cookbook: The Best Sweet and Savory Recipes for Every Occasion is published by Clarkson Potter, the same publisher of Stewart's books.

Barricelli says that a number of publishers vied for the rights to publish the book; however, he and his agent, Colleen O'Shea of Weston, chose Clarkson Potter.

The SoNo Baking Company Cookbook includes 125 recipes culled from Barricelli's career as a baker. In planning the book, he reviewed more than 180 recipes with the intent to provide "easy-to-follow recipes for sweet and savory breads and baked goods, with a focus on techniques and finishing skills to produce beautiful, bakery-quality results at home."

Part of the charm of this book is the preface that Barricelli writes to introduce each of the eight chapters and recipes: They are thoughtful, informative and personal and offer a running commentary on the professional career of this man who followed in the footsteps of his paternal grandfather and great-grandfather who had been bakers. His own father was a electrician.

In chapter two, "Cookies, Brownies and Bars," he writes: "Whenever I'm home for more than a few hours at a time, my kids beg me to make cookies with them. No matter how tired I am from a long day at the bakery, I really can't say no, as I have a team of helpers to assist with measuring, mixing, scooping and of course licking! Many of the cookies we bake and sell at the SoNo Baking Company were first developed at home with the help of these little hands."

In addition to Peter, Barricelli has two daughters, Nola, 10, and Sophia, 7. He also has a 20-year-old son from his first marriage.

With all his recipes, Barricelli offers little hints to make baking a success. For example, when baking cookies, he says, "Make sure all of your ingredients are at room temperature, including the butter and eggs." He suggests that they be taken out of the refrigerator at least four hours in advance of baking. Also, space cookies at least two inches apart.

In introducing his SoNo Chocolate Ganache Cake, Barricelli tells readers the classic, French-inspired signature cake has been in his repertoire for nearly 30 years. He created it in the early 1980s while working at The Commissary, a very popular restaurant in New York's Tribeca neighborhood.

"I worked there at the same time Madonna did, only she was a coat-check girl then, not a superstar."

The recipe for his Red Velvet Cupcakes was developed when working with Stewart.

"She would often hand me a recipe she had collected on her travels — notes scribbled on a napkin, a page ripped out of a local magazine, a letter from a recent visitor — and ask me to develop a version for the television show or the magazine," Barricelli recalled. "After a trip to the South, she brought back a recipe for red velvet cake that I tweaked and tested and now serve in both cake and cupcake form at the SoNo Baking Company. Kids and adults can't resist the deep rich color and tender texture. As with muffins and cookies, it's best to bake cupcakes one pan at a time. Top with chocolate sprinkles or shavings."

Barricelli also reveals his secrets for SoNo Cheesecake. He said cheesecake was always his father Joseph's favorite dessert.

"I'm sure he would have loved my version of the classic New York-style favorite that sits atop a nutty pistachio-flavored crust and is topped with seasonal fresh fruit."

While Barricelli has built a fine reputation with his desserts, his book also focuses on the recipes for the fresh breads the baker rolls out each day. He emphasizes that aside from the ingredients, the success of his breads can be attributed to the fact the breads are all made by hand.

He also noted that his popular olive bread uses only the "best imported Calamati olives."

Publisher's Weekly said Barricelli's new cookbook makes "you feel like you've stepped into the ultimate bakery, complete with rows of perfectly crisp cookies, trays of oversized, fruit-studded muffins, just-frosted layer cakes and the smell of fresh bread hot out of the oven. Add succinct instructions, informational head notes, technique tips, full-page color photos and a clean design, and this is a terrific gift title."

In addition to being an author and running his wholesale and retail bakery, Barricelli heads his own catering company and touts that he and his staff can cater an event from $35 to $600 a head. The latter was the price tag for one recent Fairfield County corporate event. His catering division takes pride in its wedding and custom cakes, which are made to order and priced accordingly.

Barricelli graduated from the Culinary Institute of America at age 20, one of the youngest to graduate from that cooking school. He has worked at River Café, Le Bernardin, the Helmsley-Palace, and the Four Seasons Restaurant. He also owned and ran with one of his cousins the Cousin John's Café and Bakery in Brooklyn for 10 years. His cousin still runs the business.

Taking a moment to reflect upon his childhood, first in Brooklyn and then Long Island, Barricelli, the sixth of the eight brothers, said the large family was like having your own baseball team. He said there were always 40 or 50 kids around ready to play. Having spent half his childhood without a mother and with a father who had to work and raise eight sons alone, he developed a sense of independence early. At 18 he left home and moved into the city to begin his journey in the food industry.

His book-signing journey continues at Sacred Heart University on Thursday, March 18, at 7 p.m., sponsored by WSHU Public Radio. This event is part of WSHU's popular lecture series, "Join the Conversation," which puts noted authors together with public radio listeners for engaging thought-provoking discussions. (See sidebar.)

In addition to the Norwalk and Fairfield events, Barricelli is scheduled to talk and sign books at the Darien Public Library on March 25 at 7 p.m.; and at the Waveny House in New Canaan; on April 14 at 7 p.m. This event is sponsored by the Young Women's League of New Canaan. He will be at the Wilton Public Library on April 15 at 7 p.m.