Rita Papazian, a biographical sketch
---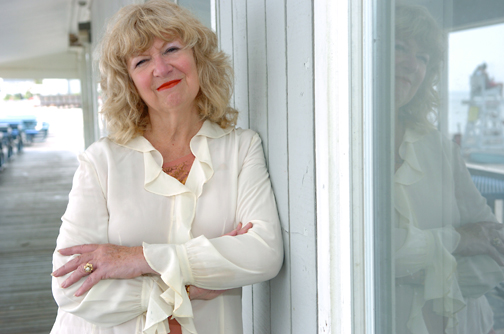 Rita Papazian is a Connecticut-based journalist, columnist, educator and memoir-writing enthusiast with over thirty years experience writing news and features articles that have appeared in newspapers and magazines. Publications include the New York Times, Connecticut Post, Waterbury Republican and the Hartford Courant daily newspapers as well as the Brooks Community Newspapers in Fairfield County and the Shoreline Newspapers in New Haven County, both in Connecticut. Her articles also have been featured in Connecticut, Westport and Woman's World magazines.
The Bronx native has held a variety of editorships at weekly and monthly publications. She was founding editor of the Weston Voice in Weston, Connecticut, a weekly that was founded, later sold and subsequently closed in the mid-80s. In its first year of operation, the newspaper won four awards from the New England Press Association.
In addition to NEPA, Papazian's work has been recognized for its achievements from the Society for Professional Journalists, the National Association of Press Women, and the Connecticut Press Club.
She has combined her writing responsibilities with public relations consulting work with focus on real estate development and special events in Connecticut. Clients have included the M.F. DiScala Co., Inc., with corporate headquarters in Norwalk, the Stamford Marathon, in Stamford, the Ox Ridge Horse Show, in Darien, the Festival of Arts in Fairfield and the SoNo Arts Celebration in Norwalk, among others.
Currently, Papazian combines her newspaper and magazine writing responsibilities with duties as an adjunct instructor in writing and public speaking at Middlesex Community College in Middletown, Conn. and formerly at Sacred Heart University in Fairfield, Conn.
Her most recent passion is memoir writing. She conducts memoir-writing workshops and works with clients in writing their memoirs into book form. In 2002 she wrote Gioacchino: Memoir of an Italian Immigrant, for her client, the M.F. DiScala Co, Inc., with corporate headquarters in Norwalk, Conn. The memoir was about the life of the company's founder, Jack DiScala, who passed away this year at the age of 94.
Currently, she is working with an 89-year old grandmother and former teacher who continues to volunteer in her local elementary school. Her memoir begins with recollections growing up in a tenement apartment in Little Italy where on rainy days she and her friends would use the marble lobby as their playground.
Papazian's other creative endeavors have included in 1989, the publishing of Fairfield: 350 Years, a one-time commemorative publication celebrating the 350 birthday of the founding of Fairfield, and the opening of the GalleRita, an arts and crafts gallery in South Norwalk, that featured the fine art and craftsmanship of Connecticut artists. This gallery opened in conjunction with her founding of the Marshall Street Artists lofts in the Lock Building on Marshall Street in South Norwalk. This space was rented temporarily to artists during an interim period before the building was sold and renovated. Papazian accomplished this project for M.F. DiScala Co., co-owners of the building in the early 90s.
Today, Papazian, who received her Bachelor of Arts degree in journalism and her Master's in secondary education from Hofstra University, on Long Island, continues to write, teach and guide others in their own creative endeavors, whether it be improving their writing skills or transforming their memories into memoirs.
She lives alone near the Connecticut shoreline, devoting her life to her writing, teaching and her three adult children and their families that include her six grandchildren.
In an interview, Oscar-winning actress Meryl Streep, (another Connecticut resident) was asked how she manages to take on the different roles she plays and performs so convincingly. Streep replied that she "shifts her soul slightly and shifts the chemistry of relationships. You always connect with a piece of material from the inside," she said.
The same is true with writing – whether it is a newspaper article, magazine piece, a writing lesson or memoir – the writer/teacher always connects with a piece of the material from the inside. That is true of family members, also.