Smith's latest reveals secrets to
making the most of Christmas in Connecticut
By Rita Papazian
Published: 01:36 p.m., Wednesday, November 24, 2010
---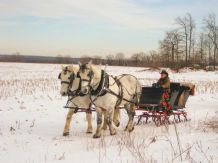 In Diane Smith's new book, "Christmas in Connecticut," carriage and sleigh rides at Cedar Knoll Farm in Lisbon are among the joyfil things to see and do in the Nutmeg State during the holidays. Photo: Contributed Photo / Norwalk Citizen
View Larger Image
When Diane Smith was a little girl she asked her father, "Is there really a Santa Claus?"

"Of course there is," her father said. "You don't think Dad and Mom could afford all those toys for five kids, do you?

Her father's comments proved quite persuasive for the young Smith.

That was then, and even now, as an adult, Smith, believes in Santa. In fact, she reveals Santa's spirit in all corners of the state in her latest book, "A Connecticut Christmas."

Last week, Smith, an East Norwalk resident and a celebrated television journalist and radio personality who has received praises for her books touting the rich history and culture of the Nutmeg State, discussed her sixth book during a book-signing at the Norwalk Public Library.

"At Christmas, you don't have to look far to see Santa. He's all around us," said Smith, citing some of the people, sites and sounds that are among the 50 "top reasons why we love Christmas in Connecticut," which she presents in the book, published by Globe Pequot Press.

"He may not live at the North Pole, or look like the Santa you see at the mall, but he sure has Santa's spirit of generosity and love," she writes in her introduction.

She cites people like Eric Hultgren, known as the Toy Man, who delivered handmade wooden toys all year long to sick kids at Bridgeport Hospital until he passed away.

Smith researched the book during a three-month period leading up to Christmas 2009. She and her husband Tom Woodruff, for example, had spent post-Thanksgiving weekend attending 13 events, many of which Woodruff photographed for the book.

When it came time for her and Woodruff, who is director of Pensions and Health Benefits for Connecticut employees and retirees, to celebrate their own Christmas last year, they were ill-prepared because their time had been spent focused on the book. While they may not have sent out their Christmas cards or bought all the Christmas presents in time last year, Smith says the experience in researching and writing "A Connecticut Christmas" filled the couple with a Christmas spirit and new appreciation for the spirit of the holiday season that permeates this state.

During her talk, Smith, who heads her own media company, Diane Smith Media, a company providing services to business, schools and nonprofits, noted that in addition to her husband, many noted state photographers contributed photos of the people, festivals, historic houses and museums highlighted in the book, which also lists resource information, including websites so readers can learn more about how to visit the places featured.

Of special note is Smith's focus on The Lockwood-Mathews Mansion and its annual Victorian holiday exhibition, which highlights the role that Christmas trees play in Christmas celebrations. As Smith notes, "Christmas trees first became popular after Godey's Lady's Book published a picture of Queen Victoria and Prince Albert's tree in 1846.

Joy Romeo of Stratford, volunteer coordinator for the LMMM, attended Smith's library talk. Signed copies of Smith's book will be for sale at LMMM's gift shop. Commenting on the book, Romeo said, "It gives a nice rich history of Connecticut and the diverse activities that are available."

From Victorian to Greek Revival, "A Connecticut Christmas" also features Fairfield's Burr Mansion, which presents its annual Christmas Tree Festival this year from Dec. 2-5. Smith will be at the festival on Sat. Dec. 4 from 1 to 3 p.m. to do a book-signing.

In addition to particular holiday events, Smith, who also serves as Connecticut Network's election coordinator for the Connecticut Public Affairs Network on CT-N (channel 98), focuses on a number of state residents who use their individual talents to bring a distinctive contribution to celebrating Christmas in a variety of ways. For example, readers will meet Maria Bruscino Sanchez, owner of Sweet Maria's Bakery in Waterbury. This marketing major turned her home-based baking business into a lucrative baking company. As Smith notes in" A Connecticut Christmas," Sanchez wrote the book on cookies: "Sweet Maria's Italian Cookie Tray: A Cookbook."

During her talk, Smith suggested buying Maria's cookies, putting them in a gift box and giving them to family and friends. People will never know, says Smith, who lists some of Sanchez's popular cookies including Mexican wedding cookies, lemon drops, Biscotti and her "sumptuous peanut-butter balls."

Smith suggests, as a complement to "Sweet Maria's" cookies, tea from Carol Timpanelli's Royal Tea Company in Trumbull. Timpanelli caters teas year-round, but especially during the Christmas season at the Fairfield Christmas Tree Festival and at Barbara Bellinger's Tudor home in Bridgeport. Bellinger hosts the tea to raise funds for the Norma F. Pfriem Breast Cancer Center in Bridgeport.

In her chapter on "Making the Season Meaningful," Smith draws special attention the nativity pageant at the Rowayton Elementary School field that dates back to the days following the assassination of President Kennedy in 1963. Rowayton resident Putsie Ritchey and her neighbors "wanted to bring the community together and raise its spirits." The pageant is ecumenical with readings by a Catholic priest, a Methodist minister and clergy from the United Church of Rowayton.

"A Connecticut Christmas" captures the spirit, enthusiasm and rich heritage of this state so evident in Smith's other endeavors that include five other books, including her popular "Positively Connecticut," which was also a Connecticut Public Television series. For nine years, she was co-host of the top-rated Morning Show on WTIC-AM New Talk 1080 with Ray Dunaway and a news anchor and reporter for 16 years at WTNH-TV in New Haven.

In 2010, she was honored with the Governor's Award for Culture and Tourism for her longtime efforts to promote Connecticut as a great place to live and visit.

Local resident Greg Blewitt said he's been "a big fan of Diane Smith," especially because her television programs and books are "so positive." Commenting on her talk, he said he was very intrigued to hear about the "Make We Joy, " a medieval pageant in the Harness Chapel at Connecticut College in New London, because his wife is from London. In her book, Smith describes the event this way:

"Mysterious dancers with racks of antlers perform the Abbots Bromley Horn Dance, a remnant of an ancient pagan religious ceremony in England. In a nod to the Druids, the Yule log is presented, and Morris dancers kick up their heels. The St. Nicholas Songsters, children in jesters' costumes, warble English carols and West Indian songs. There is a Spanish guitar performance, modern dance, clog dancers, sword dancers, bawdy moments, and religious ones. And finally the cast leads the audience out of the chapel, all dancing and singing `Lord of the Dance,' to the melody of the Shaker song, `Simple Gifts." A bonfire burns outside.

One would suspect this is followed by a "Royal Cup of Tea. (I'm just saying...)"

Alice Mulligan of Westport, a director of marketing and development for Visiting Nurse and Hospice of Fairfield County, said she is also a big fan of Smith.

"This is an absolutely charming book. I just bought a pile of them to give for gifts."

"A Connecticut Christmas" is available at Fairfield County book stores and at online booksellers. In addition to the Burr Mansion, Smith will be conducting book signings throughout the state.

For a complete listing of her upcoming appearances visit www.dianesmithmedia.blogspot.com.